50 Days of Cleanups for the 50th Anniversary of Earth Day!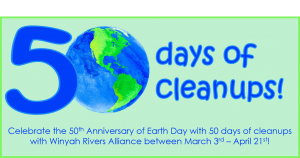 2020 marks the 50th Anniversary of Earth Day and we are celebrating by hosting 50 Days of Cleanups!
Update: We are still planning to have our cleanups, although with growing concern over COVID-19, we encourage everyone to exercise caution and avoid close contact as much as possible. Cleanups are held outside and there is limited contact with others. As always, gloves will be provided. Stay up to date on the status of our cleanups by visiting our Public Calendar here>> or contacting us.
From March 3rd through April 21st, we will host all the cleanups we can manage. We will celebrate our hard work on April 22nd – Earth Day! – with our Cleanup Awards event!
Join more than 1 billion Earth Day stewards and help us celebrate by joining a cleanup near you!
50 Days of Celebrating our Rivers!
We're going to kick off our cleanups on March 3rd! In the 50 days preceding Earth Day, we will have cleanups throughout the Winyah Bay watershed! On April 22nd, we will host our Cleanup Awards during our Green Drinks event!
Celebrating Our Adopters & Volunteers!
Join us on April 22nd to celebrate our adopters, volunteers, and all your cleanup efforts! At our Green Drinks event we will be giving away awards for Most Trash Collected, Greatest Number of Participants, Biggest Piece of Trash, Furthest Traveled Trash, Most Misguided Trash, Prettiest Piece of Trash, and Weirdest Find! To participate in our Cleanup Awards, you must:
Host your cleanup during the 50 Days of Cleanups (March 3 – April 21) – or postpone to a later date
Find a Cleanup or Host Your Own Cleanup!
Check out our interactive map below to find a cleanup near you! We will be adding more cleanups as more get scheduled.
Not an adopter but want to host a cleanup? No problem! Get your family and friends together and host your own cleanup! Click here to register your cleanup now!
Please contact your Waccamaw Riverkeeper, Cara Schildtknecht, with any questions! riverkeeper@winyahrivers.org or (843) 349-4007