Winyah Rivers Alliance
Mission Statement
To protect, preserve, monitor and revitalize the health of the lands and waters of the greater Winyah Bay watershed.
Our Vision: clean water and healthy communities

Winyah Rivers Foundation, Inc. (dba Winyah Rivers Alliance) is an Alliance of Riverkeepers protecting our rivers for fishing, swimming and drinking. We educate to encourage stewardship of our river resources. We advocate to guard against threats to our clean water. We conserve our land and water for the benefit of our families and our future.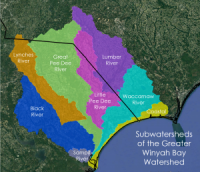 Incorporated as a 501(c)(3) nonprofit in 2001, we began as a grassroots organization of people from North and South Carolina to watch over the watersheds of the Lower Pee Dee Basin (Hydrologic Unit Code 030402), representing a drainage area of 11,700 square miles and including the Waccamaw, Lumber-Little PeeDee, Lower PeeDee (including the Sampit), Lynches, and Black Rivers.
Collectively we refer to this large watershed, the 3rd largest on the east coast, as the greater Winyah Bay watershed because all rivers ultimately discharge into the Winyah Bay estuary at Georgetown, South Carolina.
Winyah Rivers Alliance hosts the Waccamaw RIVERKEEPER®, Lumber RIVERKEEPER®, and Black-Sampit RIVERKEEPER® Programs, licensed by WATERKEEPER® ALLIANCE and partnering with WATERKEEPERS® Carolina.
The Waccamaw Riverkeeper watches over the 1,640 square mile Waccamaw watershed in North and South Carolina.
The Lumber Riverkeeper watches over the 1,750 square mile Lumber watershed in North and South Carolina.
The Black-Sampit Riverkeeper watches over 2,245 square miles (2,080 square miles of the Black River watershed and 165 square miles of the Sampit River watershed).
While we do not currently have RIVERKEEPER® Programs in the Pee Dee, Little Pee Dee or Lynches River watersheds, we have projects there with plans for expansion.