Winyah Rivers Events
Don't Forget to Check Our Calendar Regularly! 
Wake Up Paddle Series
Paddle with Us! Register by clicking on the image below.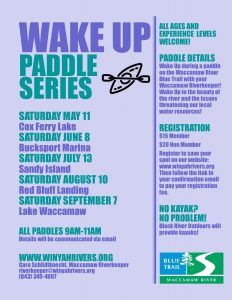 The Waccamaw RIVERKEEPER® is hosting the 2019 Wake Up Paddle Series on the Waccamaw River Blue Trail. The goal of these paddles is to draw attention to the Waccamaw River Blue Trail and issues faced by the Waccamaw RIVERKEEPER® in the effort to protect clean water.
We are holding monthly paddles from May through September in 2019. All paddles are morning paddles from 9:00 am – 11:00 am.
The Waccamaw River is an excellent river for kayakers of all experience levels.
Even if you've never paddled before, you can do any of these paddles. No kayak? No problem! Black River Outdoors will provide kayaks for anyone who needs them. Spaces are limited and registration is required! ($15 for RIVERKEEPER® members, $20 for non-members)
Register here or call (843) 349-4007. Further instructions for when and where to meet and what to bring will be communicated via email prior to the paddle.
We hope to see you on the river!
Cleanup Our Local Waterways
Our Spring Cleanup initiative is officially over but litter prevention and cleanup activities continue throughout the year. Thank you to all the volunteers who participate!
Stay tuned for our Fall Cleanup initiative. Continue to check back with us here or view our public calendar for an updated list of community cleanups you can participate in.  We hope you will volunteer with us and help defend your water from waste.
River Celebration – Sunday, September 29th
Sunday, September 29th – celebrate World Rivers Day with us! This year's River Celebration will be bigger and better than ever!  Thanks to a generous supporter, our River Celebration event will take place at a private estate adjacent to the Waccamaw River off of Peachtree Road. Shine Cafe is our food sponsor and will provide heavy hors d'oeuvres. Music, raffles, and a live auction…and new this year paddling on the private pond located on the estate!
You, your family and your friends are sure to have a great time, all in support of our nonprofit's efforts to protect clean water for our families and our future!
Hobnob at Hobcaw
Saturday, March 7th, 2020 – our annual oyster roast and lowcountry supper will be back at Kimbel Lodge at Hobcaw Barony. Save the date and watch for more details coming soon!
Annual Photo Contest
Friday, May 1st, 2020 – our annual photo contest awards ceremony will be back at the Waccamaw Neck Library. Entries will be accepted via our online portal beginning in February through mid-April 2020, judged and winners will be announced on May 1st. Save the date and watch for more details coming soon!