Clean Water Defense
We are Winyah Rivers. Our mission: to protect, preserve, monitor and revitalize the health of the lands and waters of the greater Winyah Bay watershed.
We are Waccamaw RIVERKEEPER®. We protect clean water and healthy habitats in the Waccamaw watershed.
We are WATERKEEPER® ALLIANCE, united as one powerful force fighting for every community's right to drinkable, fishable, swimmable water.
Together as WATERKEEPERS® we advocate for clean water, defending and supporting a robust set of laws, standards and permits, ensuring that these legal protections are enforced, and guarding against major threats to providing clean and safe water for everyone. Since 2001, we have proudly been the voice for protection of our local rivers and the communities, both human and natural, that rely on them.
Volunteer Water Quality Monitoring On The Waccamaw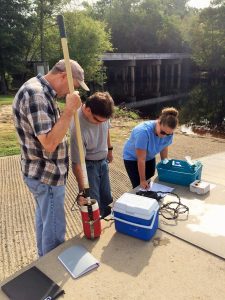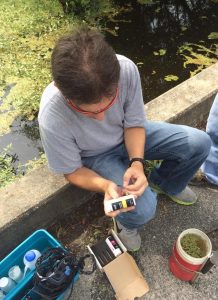 Click here to check out water quality at a location near you!
Coastal Carolina University's Waccamaw Watershed Academy and the Waccamaw RIVERKEEPER® Program jointly administer the Waccamaw River Volunteer Monitoring Program. This volunteer-based program was launched in South Carolina in 2006 and is funded by the City of Conway, Horry County and Georgetown County. It is designed to:
Increase geographic and temporal coverage of water quality monitoring in the Waccamaw River in South Carolina to assist in development of site specific water quality standards;
Address NPDES (National Pollutant Discharge Elimination System) Phase II program measures for public education and involvement;
Assist in illicit discharge detection (an NPDES Phase II program requirement).
In 2011, the program was expanded upstream on the Waccamaw into North Carolina, creating a bi-state, watershed focused program to monitor water quality from Lake Waccamaw downstream to the outlet of the Waccamaw River into Winyah Bay. As with the SC program, water quality monitoring in NC has increased the geographic and temporal coverage of water quality monitoring to assist in the development of site specific standards, to assist in illicit discharge detection and to document water quality conditions. In NC, project partners include CCU's Waccamaw Watershed Academy, Lake Waccamaw State Park, NC Department of Environment and Natural Resources, Columbus and Brunswick Counties, and several grantors including International Paper and Z Smith Reynolds Foundation.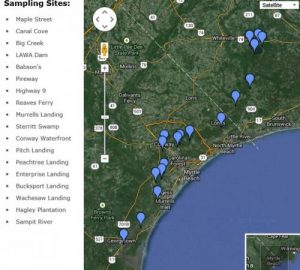 Community volunteers are trained in using environmental testing equipment and work in teams to sample a total of 18 sites, including 4 lake sites and 14 river sites. Volunteers work in teams and sample for several water quality parameters, including conductivity, dissolved oxygen, pH, nutrients and bacteria. These data are recorded in an online database and can be accessed, along with other information on the project, at Coastal Carolina University's Waccamaw Watershed Academy website.