Community Stewardship
Winyah Rivers embraces as one of its core values the education and engagement of our community in efforts to protect our rivers and clean water. We host a variety of education and engagement programs designed to promote community stewardship. Some of these programs are listed below. Check out our calendar for upcoming events and activities.
____________________________________________________________________________
River, Waterways And Public Landing Cleanup Events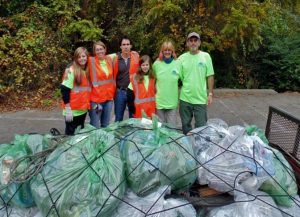 We host annual spring and fall cleanups within our greater Winyah Bay watershed. Our spring cleanup takes place around Earth Day in April and as part of Keep America Beautiful's Great American Cleanup. Our fall cleanup coincides with South Carolina's Beach Sweep River Sweep and North Carolina's Big Sweep.
In addition, we manage the RIVERKEEPER® Adopt-a-Landing Program. Participating groups agree to adopt a public boat landing, host regular cleanups and report on their results
Learn more about Cleanup Our Local Waterways and the RIVERKEEPER® Adopt-a-Landing Program.
____________________________________________________________________________
Kindness Rocks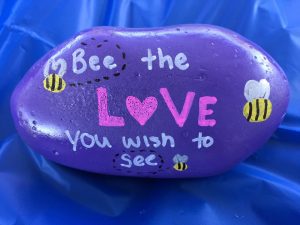 Winyah Rivers launched the Kindness Rocks Project on the Waccamaw River in 2017.  Created to help inspire others through randomly placed kindness rocks, its goal of the RIVERKEEPER® Kindness Rocks Project is to connect with our community, highlight the beauty and natural splendor of the Waccamaw River and to create a ripple effect of kindness and connection along our riverbanks.
Learn more about the Kindness Rocks Project.
____________________________________________________________________________
Waccamaw Conference
The Waccamaw Conference is an annual public education event hosted by the Waccamaw Riverkeeper and partners. It is designed to raise awareness about our natural resources and protection efforts. Normally held in the first quarter of the year, it brings together stakeholders involved in natural resources protection with the public at large.
Learn more about the Waccamaw Conference.
____________________________________________________________________________
Stormwater Education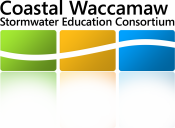 The Waccamaw RIVERKEEPER® is one of six core education providers for the Coastal Waccamaw Stormwater Education Consortium. Established in 2004, the CWSEC assists local governments in meeting their stormwater education and public involvement requirements under the federal Clean Water Act.
Learn more about the Coastal Waccamaw Stormwater Education Consortium, including the recently published CWSEC 2016 Annual Report. Contact CWSEC Coordinator Lisa Swanger for more information.
____________________________________________________________________________
Youth Programs
RIVERKEEPER® Challenge:
The Riverkeeper offers a water quality monitoring and education program for local schools. Based on the EarthEcho Water Challenge, the RIVERKEEPER® Challenge features an in-depth educational presentation that correlates with state science standards to better assist school groups to begin and sustain their water quality monitoring efforts.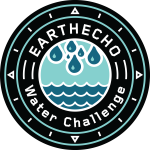 The RIVERKEEPER® Challenge's lesson is correlated with South Carolina State Science Standards and their associated Conceptual Understanding and Performance Indicators across multiple grades. For example, see below for an excerpt from the 7th grade lesson.
While the program can be delivered to additional grades (e.g., 2nd, 3rd, 8th) at varying levels of difficulty, the program most closely fits with the following grades' core areas and their relevant state standards: 5th, 6th, 7th, 9th, 10th, 11th and 12th grades.
The core area for 7th grade science addressed in the provided lesson is "Ecology: Interactions of Living Systems and the Environment." Below includes the respective state standards, conceptual understanding, and performance indicators for this core area.
Ecology: Interactions of Living Systems and the Environment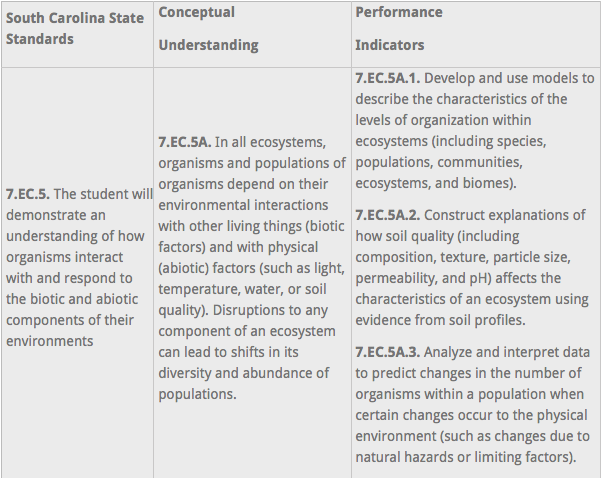 Be WELL:
The Riverkeeper, in partnership with the Coastal Waccamaw Stormwater Education Consortium and Horry County School District's Sustainability Analyst, launched the Be WELL (Water, Emissions, & Litter Learning) Pilot Program at the start of the Fall 2017 school year. The goal of this program is to foster environmental literacy and action through school-focused programs targeting:
water protection;
litter prevention; and
emissions reduction.
The two pilot schools involved (Burgess Elementary and Forestbrook Middle School) have been making excellent progress and will serve as role models for future schools to become involved. At Burgess Elementary 105 2nd grade students and teachers learned about stormwater and watersheds in preparation for their water protection activities, including the RIVERKEEPER® Challenge water monitoring program, and 5 Robotics Club students conducted a storm drain marking activity, installing decals by the drains at the school, educating individuals to not throw items into those drains.
Please contact Lisa Swanger to schedule an educator visit to your classroom to provide an introductory presentation and interactive activity!
____________________________________________________________________________
Waccamaw River Blue Trail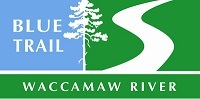 In partnership with American Rivers, Pee Dee Land Trust and other stakeholders, the Waccamaw River Blue Trail effort was launched in 2009. Our goal was to improve recreation opportunities as well as public support for the river, educating local governments and citizens about the importance of the river as a community asset, increasing community involvement and supporting conservation within the watershed.
In 2012, the Waccamaw River Blue Trail was listed as a priority project for both North and South Carolina as part of President Obama's
America's Great Outdoors Rivers Initiative. In 2013, the South Carolina portion of the Waccamaw River Blue Trail was designated a National Water Trail.
Interested in enjoying the Waccamaw River Blue Trail?
 Access the Waccamaw River Blue Trail map here.
Join our paddles! Check out our calendar for our next paddle.
____________________________________________________________________________
Cape Fear Arch Conservation Collaboration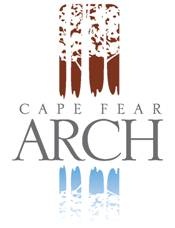 The Cape Fear Arch is a special geologic feature stretching from Cape Lookout, NC to Cape Romain, SC and containing nationally significant animal and plant communities. Created in 2006, the Cape Fear Arch Conservation Collaboration's mission is to develop and implement a community conservation vision to build awareness, protection and stewardship of the region's important natural resources. Winyah Rivers is a signatory to this partnership of organizations and individuals interested in protecting this region while balancing the needs of man and nature.
Learn more about the Cape Fear Arch Conservation Collaboration.