2020 Waccamaw Data Conference Goes Virtual!
The Waccamaw Riverkeeper, in partnership with the Waccamaw Watershed Academy, is hosting the Waccamaw Data Conference on Tuesday November 10th from 10am – 12pm. The public event will be going virtual this year as an interactive Zoom meeting. Anyone can join! Even if you cannot attend the meeting, we will be recording the data conference and sharing it online for anyone to view.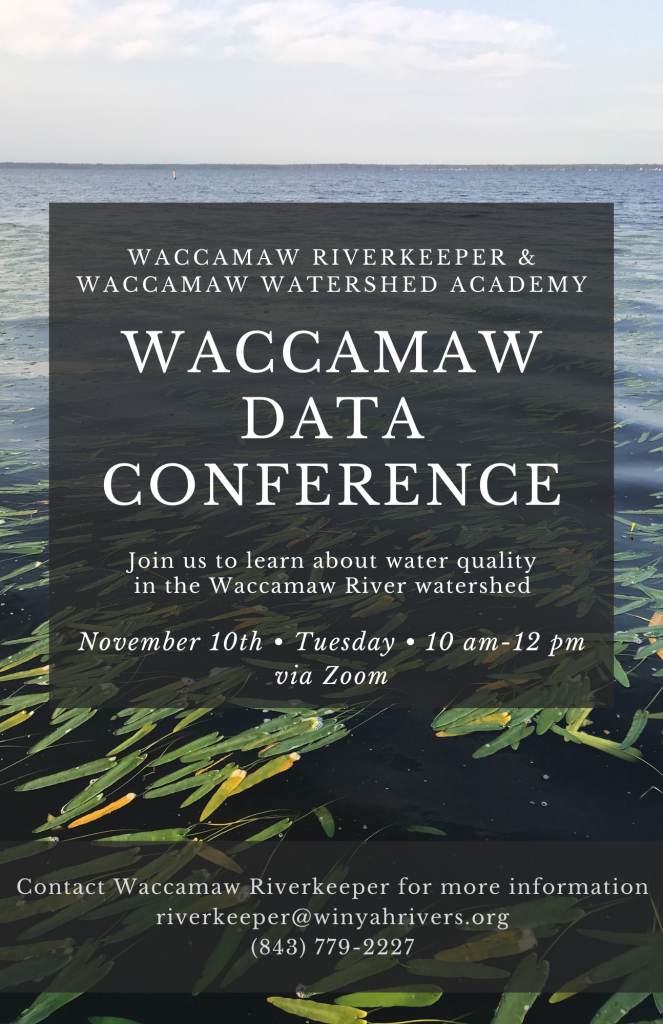 The Waccamaw Data Conference is an annual meeting for water quality volunteers, community members, and anyone interested in learning about the water quality in the Waccamaw River watershed. The 2020 Waccamaw Data Conference will feature presentations and interactive discussions. Dr. Susan Libes, founding director of the Waccamaw Watershed Academy, will discuss trends and any potential water quality issues that have been recently observed in the watershed. A particular focus of her presentation will be on how flooding impacts our water quality on the river. Our special guest presentation will be by Chrissa Waite, Project Manager with the US Army Corps of Engineers working on the Crabtree Restoration Study. Water quality issues in Crabtree have long been of interest to communities along the river and the current study focuses on how to improve and restore the watershed.
Click here to register for the virtual conference. Be sure to visit our event page on Facebook for updates and information. If you have any questions, please contact the Waccamaw Riverkeeper at (843) 779-2227 or riverkeeper@winyahrivers.org. We hope you will join us for the 2020 Waccamaw Data Conference!