2021 World Water Monitoring Day Bacteria Blitz
You are invited to join millions of people across the globe in sampling your local waters on World Water Monitoring Day! Since 2003, people have been participating in the global education outreach program. Aiming to build public awareness and involvement in protecting water resources, the program empowers citizens to perform basic monitoring of their local water bodies.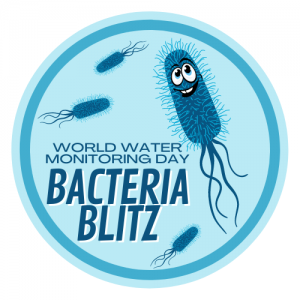 On September 18th, we are inviting you to celebrate World Water Monitoring Day with us by participating in water monitoring in your local area of the Waccamaw River watershed. Whether you sample the river, a tributary, or a swamp, we want you to help us collect data! Become part of worldwide event monitoring water quality all over the globe and join the Bacteria Blitz! Our goal this year is to collect 20 bacteria samples from the Waccamaw River watershed for our Bacteria Blitz!
During the Bacteria Blitz, we are going to be testing for E.coli. We use the bacteria as our indicator species when testing for our Swim Guide program to give guidance on whether it is safe to swim. We need your help to test all over the watershed.  Our partners at EarthEcho International have also provided us with kits for testing temperature, pH, dissolved oxygen, and turbidity of the water at your selected site. These are limited, so make sure to register now and claim for your monitoring kit along with your sampling location! The more data we can collect, the better!
Learn More About Our Bacteria Blitz!
All About E. coli!
Why E. coli?
We all want to know whether the water we use for swimming, fishing, and drinking is safe. One of the best ways to determine that is test for E. coli. The United States Environmental Protection Agency recommends using the bacteria as an indicator for other harmful bacteria and viruses that could be in our waterways. E. coli is an indicator for fecal contamination – or poop – in water. We all have E. coli in our guts and it is excreted through our digestive system when we poop. But if it's in the water, that could mean other harmful bacteria could be in the water as well.
We use the concentration of E. coli in water samples to determine the level of risk a person might take when using those waters for recreation. If the concentration is low, a person should be relatively safe to go swimming. But if the concentration is higher, the risk of becoming sick due to a pathogen is higher. This is why we use E. coli for our Swim Guide program in the summer. We want you to know how safe it is to swim in the Waccamaw River!
Collecting additional data like temperature, dissolved oxygen, pH, and turbidity help us to better understand what is going on in the water. If we have high bacteria, your Waccamaw Riverkeeper will need to investigate. Having all the information available makes that job a lot easier.
Meet Evie!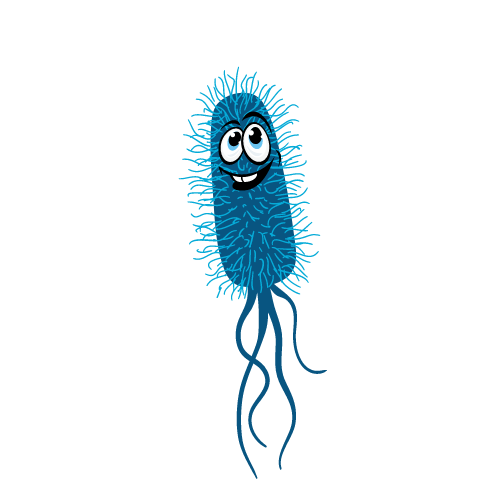 Allow us to introduce our new friend, Evie Coli! Evie, or E., is an E. coli bacteria. She is an indicator species for potentially harmful pathogens in our waterways. While she might not make you sick, when she's around you can assume there has been some fecal contamination in the water. Evie lives in our digestive system along with other pathogenic (disease-causing) bacteria, viruses, and protozoans. If she is in the water, they might be, too! We use Evie to evaluate whether the water is safe for recreation.
Where in the Waccamaw Watershed?
Waccamaw River Watershed
We will be focusing on the Waccamaw River watershed for our World Water Monitoring Day event. A watershed is an area of land where all the water – including rain, streams, and rivers – all drain to a common outlet. The Waccamaw River watershed covers an area of 1,640 square miles in North and South Carolina. That's an area larger than the entire state of Rhode Island!
If you have ever heard someone blaming all the rain from North Carolina for flooding in South Carolina, this is why. Water from the entire watershed is fed into the Waccamaw and down the river to its outlet at Winyah Bay.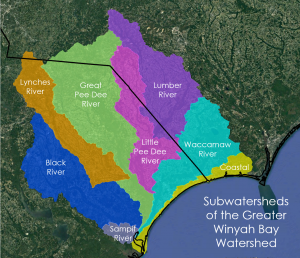 Beginning as rain-filled swamps and streams in North Carolina, the river begins at Lake Waccamaw and flows into South Carolina where it eventually joins the Intracoastal Waterway and the Great Pee Dee River and empties into Winyah Bay.
The Waccamaw River, along with the Lumber, Little Pee Dee, Great Pee Dee, Lynches, Black, and Sampit Rivers, is part of the lower Pee Dee Basin. All of these rivers empty into Winyah Bay, the third largest estuary on the East Coast. The basin drains 11,700 square miles.
Where in the Waccamaw
There are lots of places you can sample in the Waccamaw River watershed! The Waccamaw Volunteer Water Quality Monitoring Program, hosted by the Waccamaw Watershed Academy, regularly monitors 17 sites within the Waccamaw River watershed. Most of these sites are potential sampling sites for our Bacteria Blitz! Check out our map below to view the sites!
But you don't have to sample one of our sites! You can sample water anywhere within the Waccamaw River watershed! Is there a stream, creek, or canal nearby that you have always been curious about? Do you have a favorite swamp? Is your favorite landing not on our list? Those are great sampling sites, too! You can coordinate with the Waccamaw Riverkeeper to sample wherever you want in the watershed!
Site Selection
Please be sure to select a site that is safe for you to sample! Some things to consider are:
Make sure your site is a public location! We don't want anyone trespassing to participate in this event.
Make sure you have easy access! We don't want anyone climbing down steep banks or dangling over bridges.
Make sure your location is safe! We don't want anyone chomped on by a gator or lost in the swamp. Be safe!
Make sure your site is in the watershed! We want Waccamaw samples for the Bacteria Blitz.
If you are unsure about your site, the Waccamaw Riverkeeper is happy to help you find a good site! You can contact her at (843) 779-2227 or riverkeeper@winyahrivers.org.
Be Part of the Bacteria Blitz!
Anyone can participate and getting involved is easy! We will give you all the supplies and information you need to collect a sample and get it to the Riverkeeper for analysis. Here is how you can get involved in 5 easy steps!
Step 1. Register!
Use our Online Registration Form to register and claim your sampling location in the Waccamaw River watershed by September 12th! You can sample at one of our regular sampling locations, a backyard tributary, or a favorite swamp! As long as your site falls within the Waccamaw River watershed, you can sample it! Not sure where you want to sample? No worries! The Waccamaw Riverkeeper can help you find a site that works for you!
Step 2. Pick Up!
Pick up your sampling kit from the Waccamaw Riverkeeper prior to September 18th. We will give you everything you need all together in a totally awesome cooler you get to keep! Sample bottles, gloves, ziploc, data sheet, and pen will all be included! You can pick your kit up at our offices at Coastal Carolina University or the Waccamaw Riverkeeper will coordinate with you.
Step 3. Collect Sample!
Collect your water sample between 8:00 am – 10:00 am on World Water Monitoring Day on September 18th. We will provide you with instructions on how to properly collect the sample. It's important that you collect your sample in this time frame because E. coli deteriorates in heat and sunlight. Let's grab those samples early to get the most accurate results!
Step 4. Drop Off!
Return your sample to one of our collection hubs before noon on September 18th. We will have hubs set up throughout the watershed as easily accessible locations. A staff member or volunteer will collect your sample and then transport them to the Waccamaw Riverkeeper for analysis. We have to have the samples quick to make sure we get them processed within 8 hours of sampling!
Step 5. Tune in!
Tune in virtually on Monday September 20th at 5:30 pm to hear the results of your sampling and learn what the results mean for the Waccamaw. We will also have our raffle drawing to see who wins the raffle prize! This is also an opportunity to ask your Riverkeeper about the Waccamaw and why this testing is so important. Click here to join the meeting on Zoom!
We Hope You'll Join Us!
We hope you will join us and millions of other citizen scientists on World Water Monitoring Day! Participants will receive a free cooler with their sampling kit and will be entered into a raffle to win a Bacteria Blitz Prize! But the best reward will be seeing how your data can help us protect swimmable, fishable, drinkable water in the Waccamaw River watershed!
Contact your Waccamaw Riverkeeper, Cara Schildtknecht, with any questions about how you can get involved on World Water Monitoring Day or any day of the year! She can be reached by phone at (843) 779-2227 or by email at riverkeeper@winyahrivers.org.