Bacteria Blitz Results Are In!
The results are in! Our Bacteria Blitz was a great success. On September 18th, community members throughout the Waccamaw River watershed – from Lake Waccamaw in North Carolina to Pawleys Island in South Carolina – collected water samples. We met our goal and collected 20 samples in the Waccamaw River watershed during the Blitz.
Bacteria concentrations for all of our samples were below the EPA's water quality standard for recreational freshwater. E. coli bacteria is used to estimate the amount of fecal bacteria contamination in freshwater.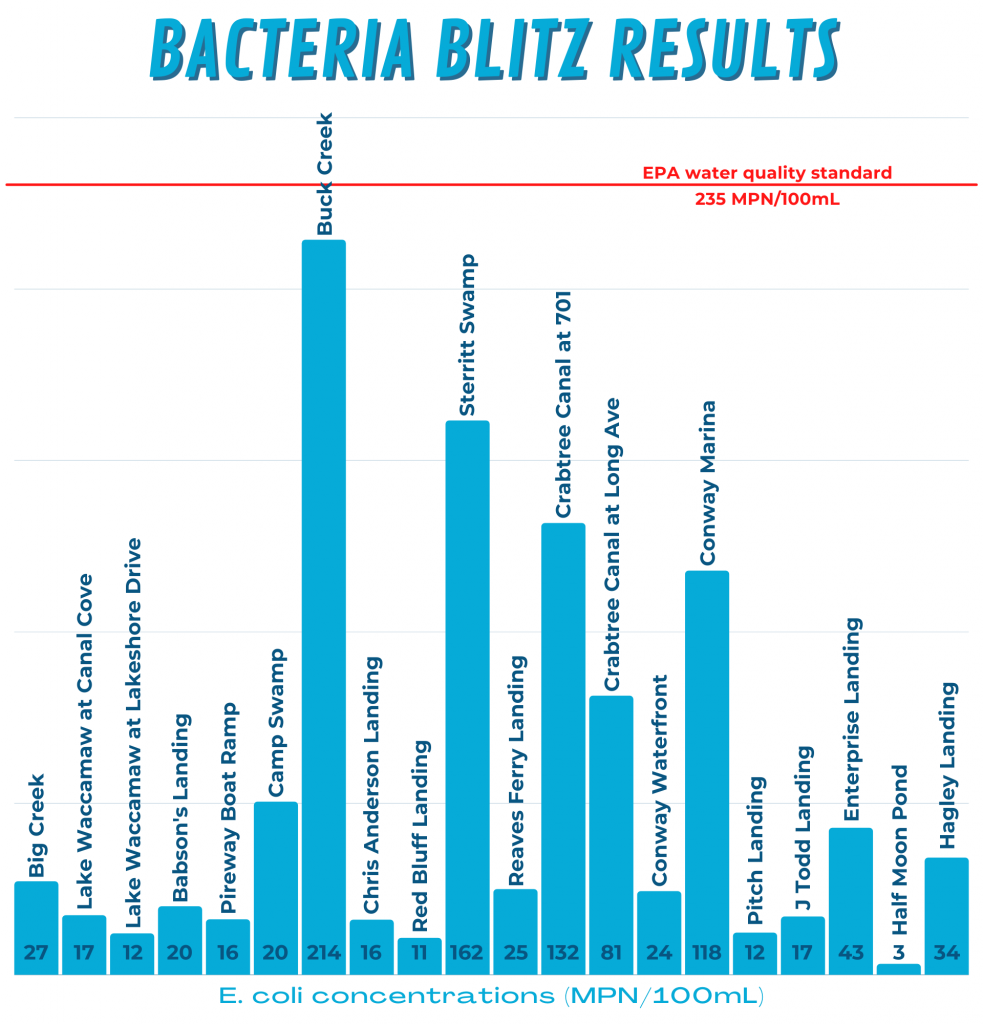 Low bacteria levels indicate a low probability for primary contact recreators (swimmers) to get sick from fecal bacteria contamination. In the simplest terms: our sampling sites were swimmable! We often see low bacteria concentrations in our watershed. However, E. coli concentrations can change rapidly. Stormwater runoff is a major contributor of bacteria along the Waccamaw River and we advise staying out of the water after serious storms and ALWAYS staying out of floodwaters. Check out the map below to see where we sampled on September 18th.
The Waccamaw Riverkeeper presented the results virtually on September 20th. If you were unable to join, but still want to learn about the project, you can view the recording on our YouTube channel. Be sure to subscribe to see other great videos from our Waccamaw Riverkeeper and the Winyah Rivers Alliance Clean Water Team.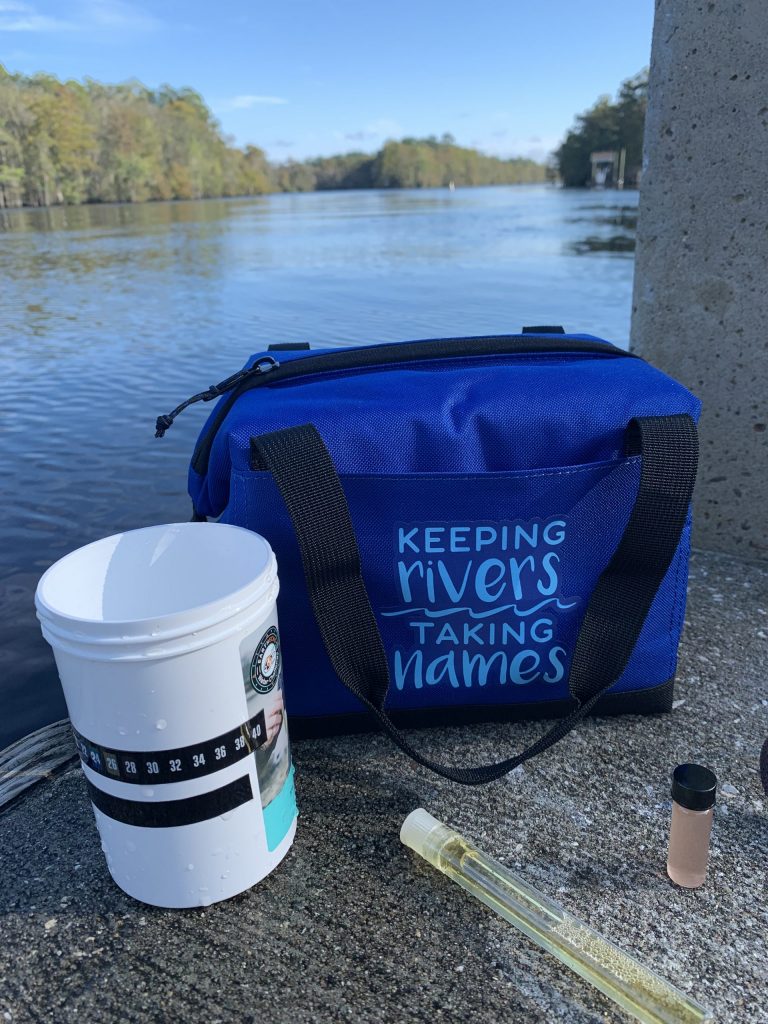 We want to thank our partners at EarthEcho International for providing monitoring kits! Several of our volunteers took the time to use the kits to collect additional data including water temperature, dissolved oxygen, pH, and turbidity. These data are important when combined with bacteria concentrations to determine the overall health of the water.
The EarthEcho International kits are used in our youth water monitoring program, Carolina Blue Stewards. Children of all ages are invited to join our program! We provide the equipment and you do the testing!
Above all, we want to thank all of our volunteers who helped us sample on World Water Monitoring Day! We had volunteers of all ages and experience levels participate in the Bacteria Blitz. It was great to see so many people get involved in this citizen science project!
We hope to continue this event in the future and welcome anyone and everyone to become a citizen scientists in the Waccamaw River watershed! Contact your Waccamaw Riverkeeper, Cara Schildtknecht, to learn how you can get involved. You can reach her at (843) 779-2227 or riverkeeper@winyahrivers.org.
World Water Monitoring Day was a great day for the Waccamaw! Your data helped to show that the Waccamaw continues to be a healthy river. Every data point helps us protect the Waccamaw and ensure fishable, swimmable, drinkable water for all.