River Celebration – a benefit for Winyah Rivers Alliance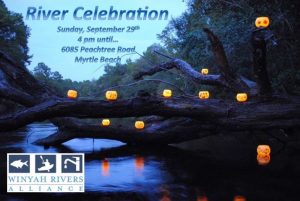 RIVER CELEBRATION
Sunday, September 29th – celebrate World Rivers Day with us!
This year's River Celebration will be bigger and better than ever! Purchase tickets here. Advance tickets are required.
Thanks to our site sponsor, Larry Paul, our River Celebration event will take place at a private estate adjacent to the Waccamaw River off of Peachtree Road.
Our food sponsor, Shine Cafe, will provide heavy hors d'oeuvres.
We'll have libations, live music, raffle items, and a live auction!
And new this year, our recreation sponsor, Black River Outdoors Center, will provide kayaks for paddling on the private pond located on the estate!
The fun begins at 4 pm! You, your family and your friends are sure to have a great time!
Don't miss this great event, in support of Winyah Rivers Alliance, our Riverkeepers and our work to protect clean water for our families and our future!