Swim Guide Results Are In! All Green!
The Waccamaw Riverkeeper is excited to announce that our first-ever Swim Guide results came back ALL GREEN!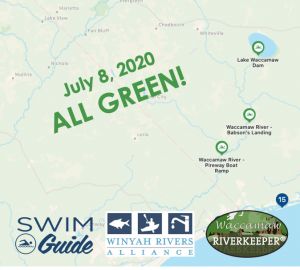 On July 8th, we sampled three sites on the Waccamaw River in North Carolina for E. coli bacteria and all three sites met the EPA's recreational water quality criteria. We will continue monitoring at Lake Waccamaw Dam, Babson's Landing, and Pireway Boat Ramp throughout the summer and reporting our findings on Swim Guide.
Visit Swim Guide or download the app to check out the data for yourself! Just search for the Waccamaw and you will find our three sample sites. We will regularly monitor E. coli concentrations at these sites through September and updating Swim Guide with our results. We will also be publishing results on Facebook, @WinyahRivers.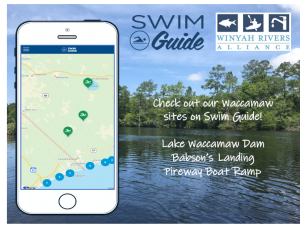 Following the EPA's recommended freshwater recreational water quality criteria, use E. coli as a fecal indicator bacteria to identify potential health risks for humans using waters recreationally. The EPA water quality standard for E. coli in freshwater is a concentration of 235 MPN/100mL. When you see "ALL GREEN!" you'll know that the sites met the recreational water quality criteria established by the US Environmental Protection Agency. A green icon means the most recent result was in compliance with the EPA water quality standard (235 MPN/100mL). A red icon means the most recent result failed to meet the water quality standard.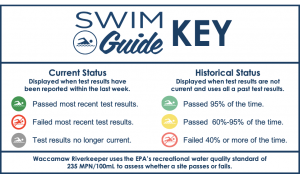 E. coli exists in the guts of warm-blooded animals, including humans, and is used to determine recreational water quality. If detected in the water, the bacteria could be a signal that there is dangerous pollution entering our waterways that can pose a health risk to swimmers and boaters.
The Waccamaw River only rarely has high fecal bacteria concentrations. Volunteers with the Waccamaw Riverkeeper have been monitoring water quality in North Carolina since 2011 and have collected and analyzed 497 bacteria samples since then. Of those samples, only 6 exceeded the water quality standard. Our sites in North Carolina meet the water quality standards 98.79% of the time!
However, our data is not a guarantee the sampled areas are safe for swimming at any given time. While E. coli levels in the Waccamaw River are overall low, E. coli levels can change at any time and frequently increase after rain events. This is why you will often hear it's unsafe to swim after major rain events or in floodwaters. Stormwater runoff carries a variety of pollutants that can pose health risks for recreators. As the Waccamaw Riverkeeper, it is my job to provide you with the best science-based information I can to help you make informed decisions about your recreational use of our gorgeous blackwater river.
Please contact your Waccamaw Riverkeeper, Cara Schildtknecht, at riverkeeper@winyahrivers.org if you have questions or if you are interested in assisting with collecting water quality data. You can find further information about the Waccamaw RIVERKEEPER® Program of Winyah Rivers Alliance on this website.