2023 Waccamaw Week
The Waccamaw Riverkeeper and our partners, North Inlet – Winyah Bay National Estuarine Research Reserve, and CCU's Waccamaw Watershed Academy, will host the 2023 Waccamaw Week from March 19 through March 25. During the week of World Water Day, we will host activities and events celebrating our strange and wonderful Waccamaw River watershed.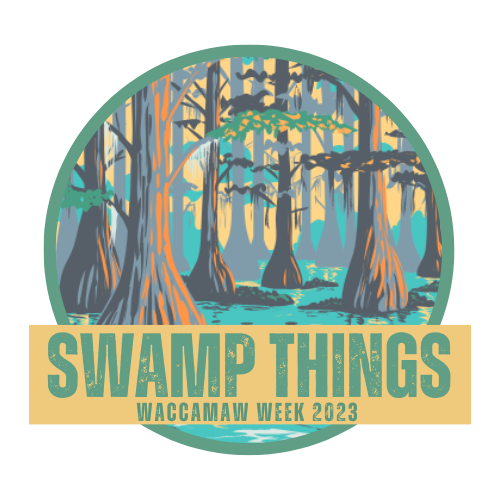 Our theme this year is Swamp Things. Living in the coastal plain, we recognize the importance of protecting our swamps. While many may view swamps as dirty, wet, and even spooky, we see the beauty and wonder of our swamps. Whether it's the fascinating history, the unique flora and fauna, or the ecological role swamps play in our ecosystem, there is a lot to love about swamps. Swamp Things aims to raise awareness about all the awesomeness our swamps contain.
Waccamaw Week will feature outdoor activities, interactive competitions, and the triumphant return to the Horry County Museum! We hope you will join us for a week of exciting events.
The Waccamaw Week is an annual educational event for the public focused on the importance of our natural water resources and efforts to protect them. The 2023 event is co-hosted by the Waccamaw RIVERKEEPER® Program of Winyah Rivers Alliance, North Inlet – Winyah Bay National Estuarine Research Reserve, and CCU's Waccamaw Watershed Academy. This FREE community event is open to all and we hope to see you at events throughout the week!

Cara Schildtknecht
Winyah Rivers Alliance
Maeve Snyder
North Inlet – Winyah Bay NERR
Victoria Green
Waccamaw Watershed Academy
---
Week of Events
Swamp Cinema & Swamp Things Costume Contest
Interactive Competitions
Student Science Poster & Art Contest
Volunteer Opportunities
---
Swamp Stomp & River Jump
Sunday, March 19th | 1:00pm – 3:00pm | Cox Ferry Lake Recreation Area | 1403 W. Cox Ferry Road, Conway, SC 29526
Explore the natural beauty of a Waccamaw swamp! Whether you're interested in learning more about native plants and animals, need some blackwater therapy, or just want to play outside, this event has something for everyone! Join us and our partners for guided nature tours on the swamp trails and on the water. Tours are scheduled as follows:
– Plant Walks led by the Grand Strand Native Plant Society will be at 1:00, 1:30, and 2:00
– River Pontoon Tours led by Captain Matt with Waccamaw Outfitters will be at 1:00, 1:30, and 2:00
– River Kayak Tours led by the Waccamaw Riverkeeper will be at 1:00 and 1:45
– Guided Bird Watching led by Amy & Chris Hill will be from 1:00 – 2:30
– Scavenger Hunt will be from 1:00 – 2:30
– River Jump will be at 2:30
Following the guided tours of the Recreation Area, you can join us for the River Jump! Participants will take the plunge into the swampy waters of the Waccamaw River in Cox Ferry Lake!
You can register to join a tour, sign up for a kayak, and register for the River Jump starting at 12:30 pm at the picnic pavilion. Tour spaces will be on a first come, first served basis.
Come join the fun and explore your local swamp!
---
Myrtle Beach Green Drinks
Tuesday, March 21st | 5:30 pm – 7:30 pm | Chantis | 104b Laurel St, Conway, SC 29526
Myrtle Beach Green Drinks is a monthly happy hour series hosted by local organizations who are providing solutions to environmental concerns. Enjoy some socialization, education, and networking.
March's host is Pee Dee Land Trust. The organization strives to conserve and promote an appreciation of the significant natural, agricultural, and historical resources that make the Pee Dee watershed special. Pee Dee Land Trust has partnered with private landowners to permanently protect over 38,000 acres across the watershed. Come meet them and learn more about the importance of conservation and how private landowners can protect their own lands.
This event is FREE and open to the public so bring your friends and family and toast the coast! Be sure to follow Myrtle Beach Green Drinks on Facebook for more information and future events.
---
Water Quality Wednesday
Wednesday, March 22nd | 8:00 am – 11:00 am | Waccamaw Volunteer Monitoring Locations
We're celebrating World Water Day with our Waccamaw Volunteer Water Quality Monitors! Through the collaboration of the Waccamaw Watershed Academy and the Waccamaw Riverkeeper Program, nine teams of volunteers sample twice per month throughout the Waccamaw River watershed from Lake Waccamaw in North Carolina to Winyah Bay in South Carolina.
On Water Quality Wednesday, we are inviting you to join your local monitoring team while they sample water quality. Observe, ask questions, and explore while they monitor the water quality. Staff from the Waccamaw Watershed Academy and the Waccamaw Riverkeeper will be on site to answer any questions and help you get involved in monitoring if you're interested.
You can also stick around for a monitoring site cleanup to help us keep our rivers clean! March 22nd – April 22nd is Winyah Rivers' spring cleanup initiative. Help us kick off our cleanups on World Water Day! All supplies will be provided. Just show up and help out!
Our locations for Water Quality Wednesday are:
– Lake Waccamaw Dam (Lake Waccamaw, NC) with Team 8 & Emma Gratto, NC Riverkeeper Assistant
– Chris Anderson Landing (Longs, SC) with Team 1 & Cara Schildtknecht, Waccamaw Riverkeeper
– Bucksport Marina (Conway, SC) with Team 3b & Victoria Green, Volunteer Programs Manager
– East Bay Park (Georgetown, SC) with Team 6 & Erin Donmoyer, Black-Sampit Riverkeeper
Click here to register for Water Quality Wednesday! We need to make sure we have enough supplies and staff to go around. Participants should register by March 17th to let us know where you'd like to join our teams on Water Quality Wednesday.
---
Swamp Cinema & Swamp Things Costume Contest
Thursday, March 23rd | 7:00 pm – 9:30 pm | Kimbel Lodge at Hobcaw Barony | 22 Hobcaw Rd, Georgetown, SC 29440
Our goal with Waccamaw Week is to educate people on the science behind our swamps. But that doesn't mean we can't enjoy a little science fiction, too!
Swamp Cinema is an outdoor movie night featuring the premier of our educational video, "Do Ya Like Swamps?" Learn the truth with our protagonist when she wanders into the home of a strange creature who loves swamps. Following the premier, settle in for our feature film, the 1982 Wes Craven science fiction classic, Swamp Thing!
Be sure to come dressed as your favorite swamp thing to enter the Swamp Thing Costume Contest! Dress as a real life creepy crawly from the swamp for the Science category or as your favorite cultural swamp monster for the Fiction category. Prizes will be given for the best costumes in each category.
We will have the popcorn hot and ready! Bring a lawn chair or blanket, movie snacks, and join the fun!
---
Swamp Summit
Saturday, March 25th | 12:00 pm – 3:30 pm | Horry County Museum | 805 N Main St, Conway, SC 29526
We're going back to our roots at the Horry County Museum! The finale of Waccamaw Week will be the Swamp Summit. It will be a full afternoon featuring our keynote speaker, awards ceremony, and educational exhibitors.
The Swamp Summit will open at noon. Tour the museum while you visit with our educational exhibitors, view our student poster contest entries, and the winners of the Winyah Rivers Alliance Photo Contest.
At 1:00 pm, we will convene in the Auditorium for our keynote presentation by Craig Sasser, Refuge Manager of the Waccamaw National Wildlife Refuge. Following his presentation and time for questions, we will present awards for our Student Science Poster & Art Contest.
Following the presentations, there will be time to continue exploring the museum and educational exhibits.
Keynote Speaker Profile
Marshall Craig Sasser, Jr., has been the Refuge Manager of the Waccamaw National Wildlife Refuge since 2003. Craig has a long history of protecting the natural resources of coastal South Carolina. After earning a Bachelor of Science in Biology from Furman University, he embarked on his career in conservation through biology. For more than 30 years, Craig has been an employee of the U.S. Fish and Wildlife service working along the coast at some of our most beautiful protected areas including Cape Romain, Ashepoo-Combahee-Edisto (ACE) Basin, Santee, and Waccamaw National Wildlife Refuges.
He has diverse experience in wetland management, waterfowl and migratory bird biology, aquatic invasive species management, conservation networking, landscape habitat planning, and public use management. All of these skills have led to his success as the Refuge Manager. His understanding of the local environment is unparalleled.
Craig is an avid outdoorsman and enjoys exploring our local natural areas in his limited free time. He enjoys hunting, fishing, canoeing, hiking, surfing, photography, and wildlife observation. He is also known for his cooking skills amongst his family, friends, and colleagues, often utilizing local food resources to create delicious meals.
Craig's love for the area and passion for protecting it is obvious through his professional and personal life. We cannot think of anyone better suited for our keynote speaker for the Swamp Summit.
Keynote Presentation Synopsis
The Waccamaw National Wildlife Refuge is celebrating its 25th Anniversary this year. The Refuge was established on December 1, 1997 to protect and manage diverse habitat within the coastal river ecosystems and to provide wildlife-dependent recreational activities such as hunting, fishing, wildlife observation, photography, and environmental education. The Refuge consists of approximately 300,000 acres of protected wetland habitats ranging from historic, broken, and actively managed tidal rice fields, to blackwater and alluvial flood plain forested wetlands of the Waccamaw and Great Pee Dee Rivers. As some of the most diverse freshwater wetland systems in North America, the area provides important habitat for migratory birds, fish, and other wildlife. Additionally, the wetlands are critical for the filtration and stormwater retention for the primary drinking water resource of the greater Grand Strand region.
Our keynote presentation, "Waccamaw National Wildlife Refuge: Twenty Five Years of Landscape Conservation" will focus on the history of the Refuge and how it has helped protect our local swamps. After 25 years, the Waccamaw National Wildlife Refuge continues to be a local gem in our watershed. Join us to learn all about the importance of land conservation and all the unique opportunities the Refuge offers.
Educational Exhibitors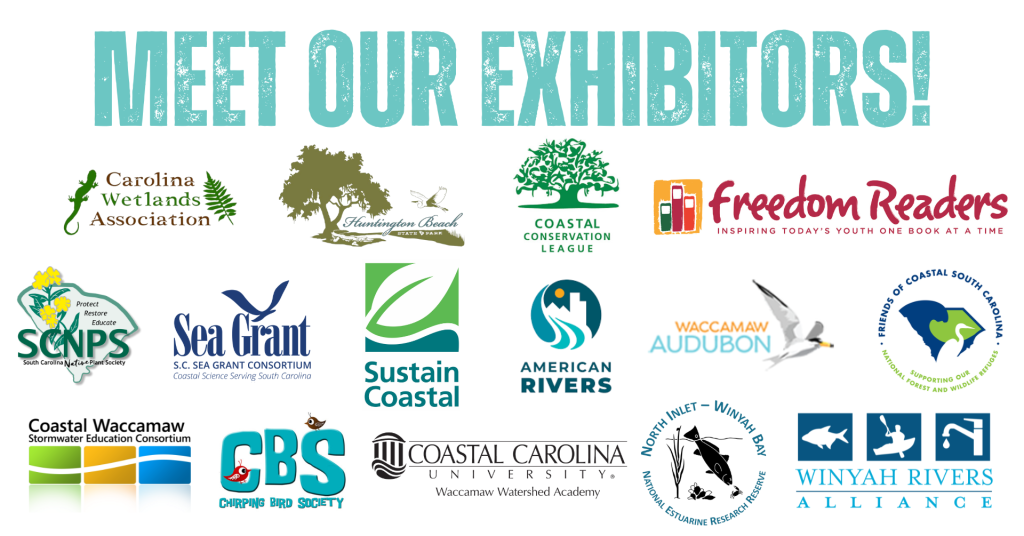 Visit our exhibitors by click on their name below:
---
Student Science Poster & Art Contest
Visit our 2023 Waccamaw Week Student Science Poster & Art Contest Gallery on Facebook!
Visit our 2023 Waccamaw Week Student Science Poster & Art Contest Gallery on our Website!
Students (K-12th and post-secondary) were invited to enter a science poster or artwork that focused on our theme, Swamp Things! This broad topic was open to individual interpretation! Students could choose to enter something applicable that has already been developed or create an entirely new science poster or artwork. Examples include: science class or club project, environmental stewardship or volunteer initiative, artwork (e.g., painting, photography, poem) and more. Creativity is always welcome!
Science poster and artwork submissions were separated and organized into the following grade levels: Elementary (K-5th); Middle (6th-8th); High (9th-12th); and Post-secondary (e.g., university, institute). One 1st place award was given to the winner of each age group in both the science and art categories.
2023 Waccamaw Week Student Poster Contest Winners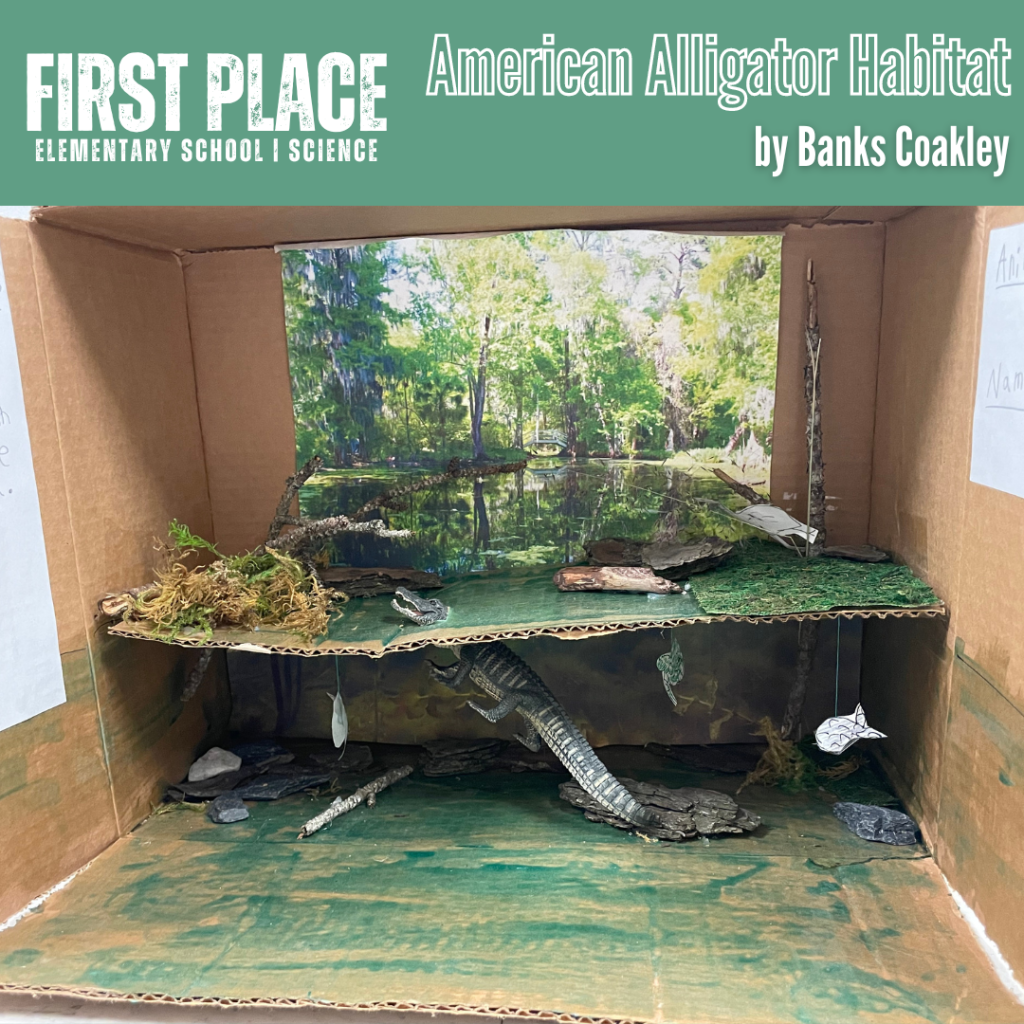 Visit our Facebook 2023 Waccamaw Conference Student Science Poster & Art Contest photo gallery to see all the incredible entries from our students throughout the Waccamaw River watershed this year!
---
Swamp Things BioBlitz
February 24, 2023 – March 24, 2023
Join our Swamp Things BioBlitz as part of the 2023 Waccamaw Week! Venture into our local Waccamaw swamps and collect observations to help us better understand our environment and how our swamps help protect clean water! So many unique and interesting plants and animals call our watershed home. How many can you observe during the BioBlitz?
The Swamp Things BioBlitz will take place during the month preceding Waccamaw Week! From February 24 – March 24, make observations in the watershed to add to the project. We will announce our top observers and present awards at the Swamp Summit on Saturday, March 25, 2023 at the Horry County Museum.
To participate, visit our Swamp Things BioBlitz Project page on iNaturalist, join the project, and start observing! To learn more about iNaturalist and how you can use it, check out All About iNaturalist, a video tutorial from our Waccamaw Week team.
2022 Waccamaw Week BioBlitz Winners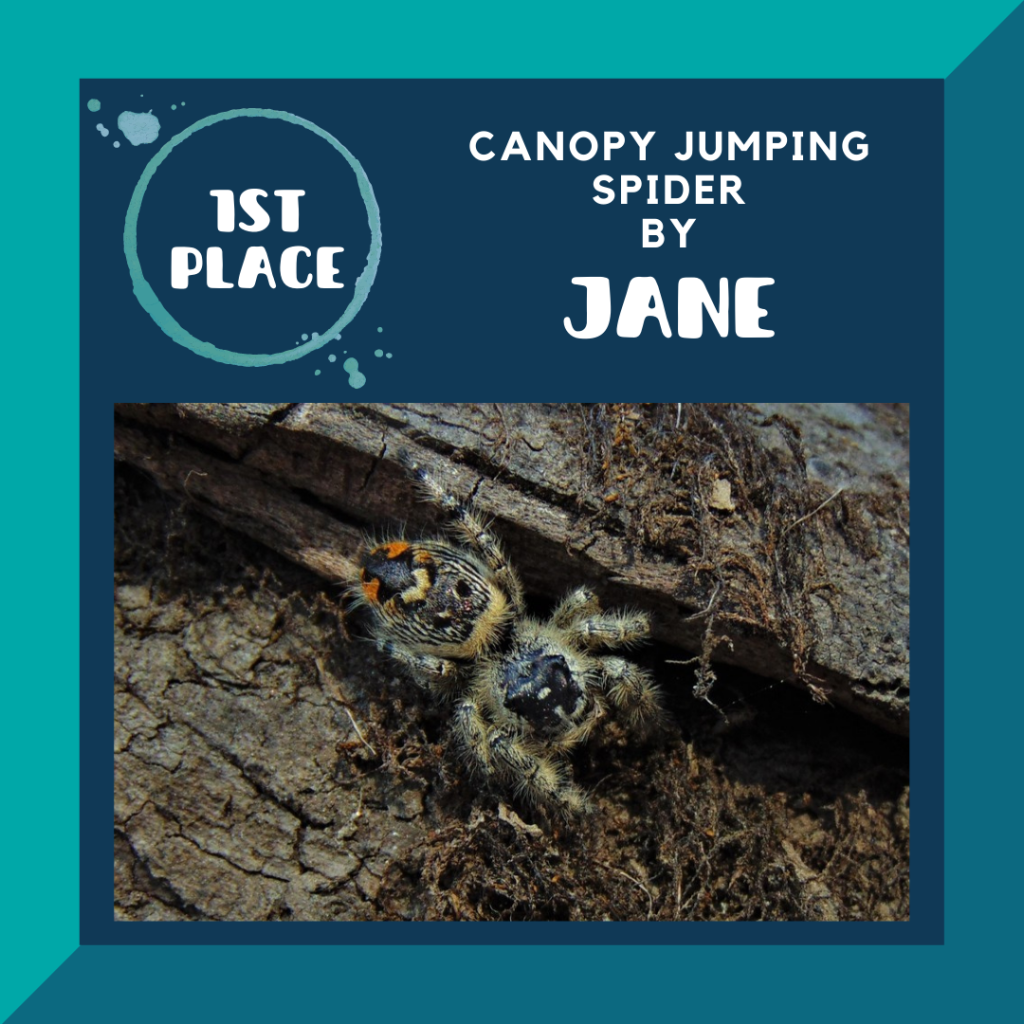 Visit our 2022 CWA@50 BioBlitz Project page on iNaturalist to see all the amazing observations made during the 2022 project! iNaturalist is a great way to learn more about the nature that surrounds you. Get out in nature, snap a picture, log your observations on iNaturalist, and learn about your environment!
---
Call for Volunteers
We will need volunteers to help at several of our events. From nature walk tour guides to greeting and registering participants to passing out popcorn, we have a job for anyone!
This is a great opportunity for students who need service learning opportunities or anyone who wants to give back. Anyone interested can register online using the Waccamaw Week Volunteer Sign Up Form. Join us and enjoy the events, too!